Hundreds of British children were tased by police using stun guns between January 2014 and November 2015 according to a new report by police watchdog StopWatch.
The group found that 407 were stunned
by police who used 50,000 volts to temporarily incapacitate them, with 57 incidents involving minors under the age of 14 years old.
The international law in relation to their use, which the UK has been signed up to since 1990, has been violated as a result of the practice, according to the watchdog organization.
Chastising your kids is child abuse. But the police can beat them w/ batons, taser them, and kill them & thats justifiable w/ "facts"
The London Met was recorded as the
top offender using stun guns against 185 minors over the two year period, 16 of them under 14.
The findings also revealed that British police performed 75 strip searches on minors last year.
Data from 18 police forces was compiled by StopWatch through a series of Freedom of Information (FoI) requests.
The group, which is a coalition of legal experts and civil liberties campaigners, said the rights of children had been"violated" and that police actions contradicted the Human Rights Act.
"Perhaps the most shocking thing is we don't really know what effects Tasers have when used on children," StopWatch said in a statement. "The obvious medical concern is that children are smaller and thus more vulnerable: their heart muscles and bones may not have developed fully; it is believed that cardiac rupture is more likely to occur among children."
Amnesty International official Oliver Sprague condemned the findings and said he was concerned about the lack of"guidance" police have on using the weapon on young people and children.
SHOCK HORROR, Police fire Taser during 0.07% of interactions with children where Taser involved

UK -431 children involved in police taser incidents in 2013, an increase of 37% from 2012
#
rightsnotwrongs
#
CRC
twitter.com/sfcreaney/stat …
Using electronic weapons on minors has been categorized as child abuse when perpetrated by civilians (particularly African-Americans), but British police continue the practice despite a warning from the Defence Sub-committee on the Medical Implications of Less-Lethal Weapons that stun guns are more likely to cause heart problems in children.
In the US, Philadelphia police were criticized for firing a Taser at a 14-year-old boy's face, causing him to fall and injure himself.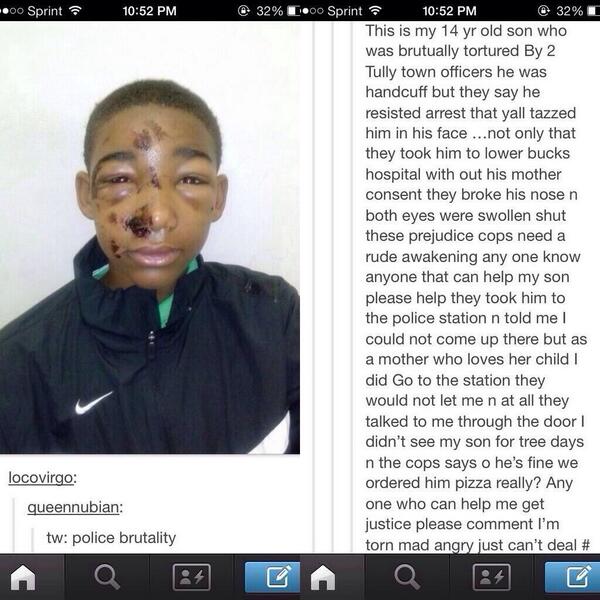 14 yr old boy reportedly gets beat and gets a taser to the face by police.

Bucks County officials stood by the officer's actions, blaming the boy for initially running away from police after being arrested for shoplifting.